Obligo: A Better Security Deposit Alternative
As the only credit-backed deposit alternative, Obligo's mission is to build trust between property owners and renters through financial technology.
We'd like to share our thought process and core values that have helped us create the most effective and transparent deposit alternative on the market.
Schedule a Demo
What is the Goal of a Security Deposit Alternative?
There are very good reasons why property owners require security deposits. Maintaining protection against damages and unpaid rent is the obvious reason, but deposits also allow landlords to screen and establish accountability with renters – they now have skin in the game.
Many renters are surprised to learn that landlords aren't big fans of deposits. Accepting, processing, and refunding deposits is a burdensome administrative process, made even more complicated due to ongoing regulatory changes.
At Obligo, we believe that the purpose of a security deposit alternative is not to offer an exemption for damages, unpaid rent, or unqualified renters. Our role as a credit-backed deposit alternative provider is just the opposite: to qualify a renter for deposit-free living and maintain that renter's accountability. 
We built a solution that makes renting an apartment as simple and secure as checking into a hotel, backed by a super responsive customer service team. For renters, we unlock the cash that would otherwise be tied up in escrow accounts so you can save, invest, or pay down debt. For property owners, we provide security while maintaining accountability, strengthening your relationship with your renters, eliminating administrative work, and increasing your NOI. 
How it Works: As Simple as Checking into a Hotel
The hospitality industry successfully solved their cash deposit problem decades ago by utilizing financial technology, specifically by placing a pre-authorization hold on a guest's credit card upon check-in.
For hotels, the card issuer fulfills several roles. First, they verified the credit-worthiness of a guest prior to issuing their card. Second, they provide the hotel with access to funds from a credit card or bank account balance in the event of an open balance at check-out. Third, the card issuer will act to recover debt from the guest if necessary. This process allowed hotels to simplify how trust is established, without needing to accept cash, take on new risk, or sacrifice customer accountability. This was the inspiration behind our approach.
To qualify for Obligo, we require that renters provide one or more Billing Authorization methods (i.e., a bank account or credit card). We connect to these accounts in real-time to ensure that a renter would have the ability to repay any end-of-lease charges.  In exchange for a small fee to Obligo, qualified renters keep their cash throughout the duration of the lease.

Our secure Billing Authorization then enables owners and managers to charge renters up to the established deposit amount at the end of their lease. Property managers can only charge up to this amount for damages or missed rent, and unreasonable charges may be disputed through any of the same legal channels as defined in the lease and/or provided by law, just like a traditional deposit. 
When a property manager submits a charge at move-out, our platform will initiate your ACH payment immediately and then collect the owed amount from your resident. Renters who have outstanding charges at the end of their lease can schedule an interest-free repayment plan, with the option to pay in monthly installments.
We believe in providing flexibility, adding real long-term value, and providing a great experience for renters, property managers and owners alike. If a renter prefers to pay a traditional cash deposit, Obligo can collect that deposit and automatically certify and settle those funds to the property. 
Need to collect additional line items before move-in such as first month's rent, pet fees, or other move-in charges? We've got you covered. Obligo's ACH processing is free of cost and we guarantee delivery of the funds for the property, which means our partners no longer need to send applicants away to purchase the certified checks often required for move-in related payments.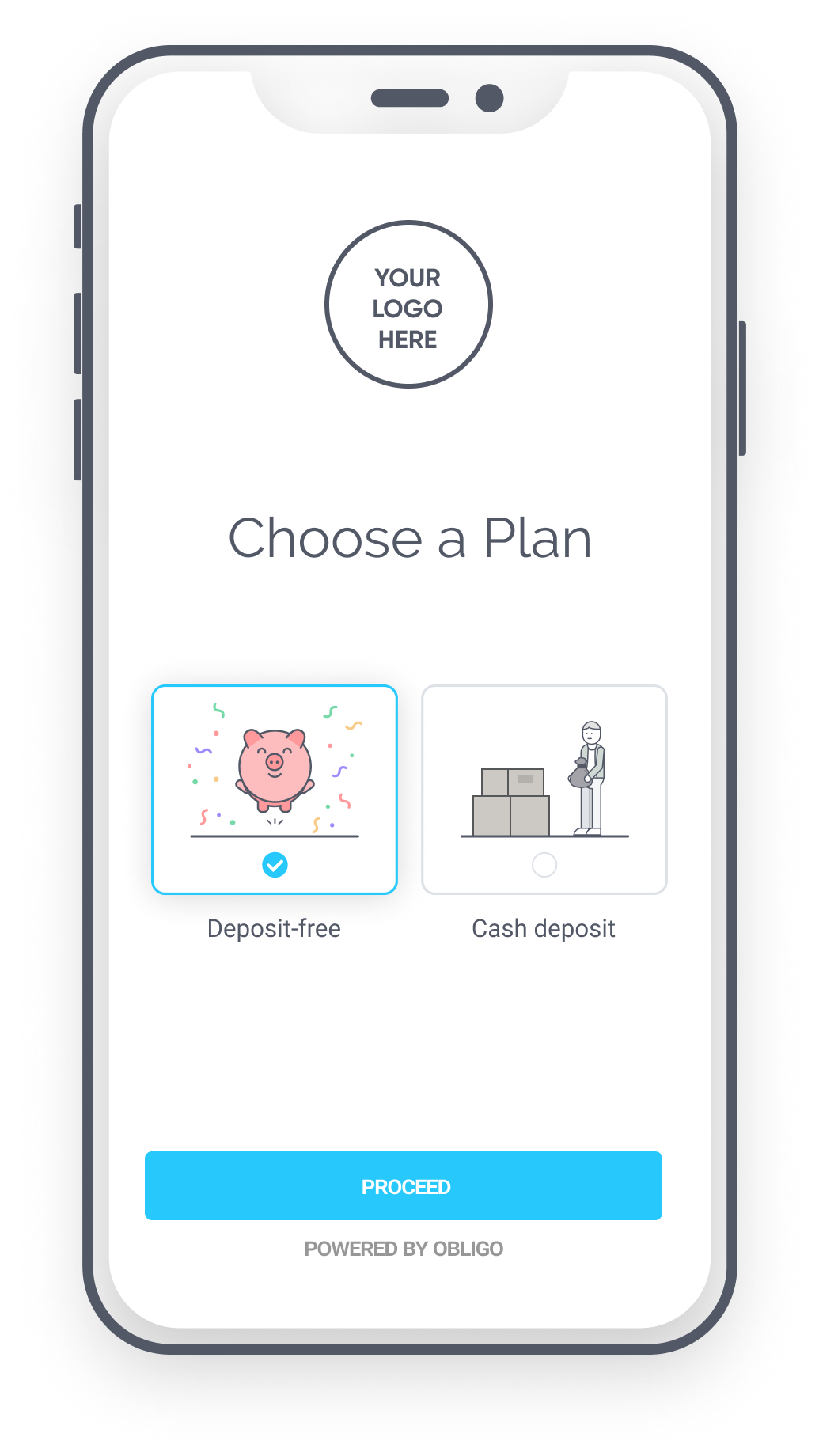 Full Protection. Full Accountability.
Transparency and accountability are our top priorities, for both renters and property owners. What good is a security deposit alternative if renters are unsure about their accountability and property owners are unable to understand pricing, coverage policies, and claims processes? Historical alternatives such as surety bonds are often confusing and provide only limited protection to both renters and owners.  
We maintain transparent protection for both renters and property owners. Our billing authorizations provide properties with guaranteed protection up to the security deposit amount, as specified by the lease agreement at move-in.
Obligo will never process charges that exceed a renter's billing authorization amount. (This does not exempt renters from additional charges they may owe to their property manager beyond their security amount.) 
Obligo is committed to working with trusted owners and property managers. We evaluate partner portfolios for abnormal charge rates prior to and during our working relationship to ensure renters are treated fairly. Any patterns of renter abuse will prevent or result in a termination of the Obligo partnership.
Cost-Effective & Customized Pricing
Obligo charges a non-refundable fee for each deposit-free plan. This service is priced monthly, and typically paid upfront for the first year of the lease. The fee is customized based on the security requirement.
This fee can be charged to the property manager, the renter, or a combination of both, depending on how the property manager wishes to configure the service.
A Holistic Approach to Security Deposits
In addition to our deposit-free service, we provide a holistic suite of move-in and move-out solutions to increase operational efficiencies and drive a property's competitive advantage, all fully integrated into your PMS. 
Our Electronic Deposit Refund solution automates and accelerates traditional deposit refunds for owners and renters. No more chasing renters for forwarding addresses, cutting paper checks, worrying about how to get deposits back within mandated refund windows, or risking negative online reviews due to slow refunds.  And renters get their deposits back quickly, securely, and right where they need them – in their bank accounts.
Looking to boost retention rates while minimizing the cost of concessions? Incentivize renewals by refunding security deposits at the time of lease renewal. Refunding deposits has a stronger effect on renewals than a 3% concession on annual rent. 
Want to run your own deposit-free program and optimize your bad debt? Power your renter experience with Obligo's state of the art financial technology. 
For property owners and managers looking to generate ancillary revenue, we offer a tailored revenue sharing program to help you boost NOI and add even more upside. Say goodbye to security deposits, forever.